Important Facts About Bonk.io Account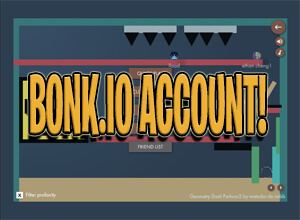 The Bonk.io is a challenging game where you should push opponents off the map. You can play the game using your Bonk.io account. Here are few things you should know about a Bonk.io account.
Important Facts About Bonk.io Account
Bonk.io is a fascinating online multiplayer game with many "interesting" styles. Bonk.io is quite similar to the physics game. It is quite simple to play Bonk.io. This means anyone and everyone can try Bonk.io. just like conventional physics tactics, you must eliminate other players from the game. Your opponents will be placed on different maps. To win the game, you must eliminate enemies from all these maps. Bonk.io commands are easy. Your character in Bonk.io can be moved using the arrow keys. In order to make your character heavy, you should use the "X" key.
Holding the "X" key gives more power to players. This is when you can gain momentum and strike other players from the map. Likewise, the "X" key helps players stabilize. The only drawback with the "X" key would be a loss of speed.
How to Play Bonk.io?
Playing Bonk.io is as simple as the game. To begin with, you need a Bonk.io account.
There are two separate ways to play the game. In each method, you will have impressive features and a brand new avatar. So, choose your Bonk.io account wisely.
You can play Bonk.io with or without signing up. Likewise, you can create your own Bonk.io account.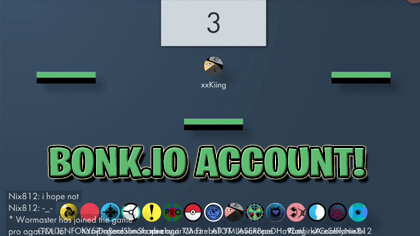 How to Open a Bonk.io Account?
The Bonk.io account will let you enjoy the gameplay in chronically. The accounts will give you the freedom to improve levels, modify your individual levels, and include friends as a part of the gameplay. When new users are included in your account, they will be given different options. As you create an account, you will be able to choose favored campaigns.
Bonk.io account is considered as a preferred way of playing the game. That is because you can choose different "types" of matches. For example, you can select the "quick match" option. Likewise, you have the freedom to pick the "Custom Game mode". The custom game mode offers many stages or rooms with diverse players.
With Bonk.io accounts, you will be able to modify your Bonk too! You can alter its color, design, and shape.
Features of Bonk.io Accounts
Notable features of Bonk.io accounts are:
Players with exquisite bonk accounts will be able to create their own rooms.
The account holders will receive maps.
Account holders can choose from different gaming modes.
You need a bonk account to play with friends and opponents from different countries.
You can create a game level editor.